LowVARates is not affiliated with any government agencies, including the VA, FHA, or the HUD. VA lender ID #9797520000.
Consolidate Debts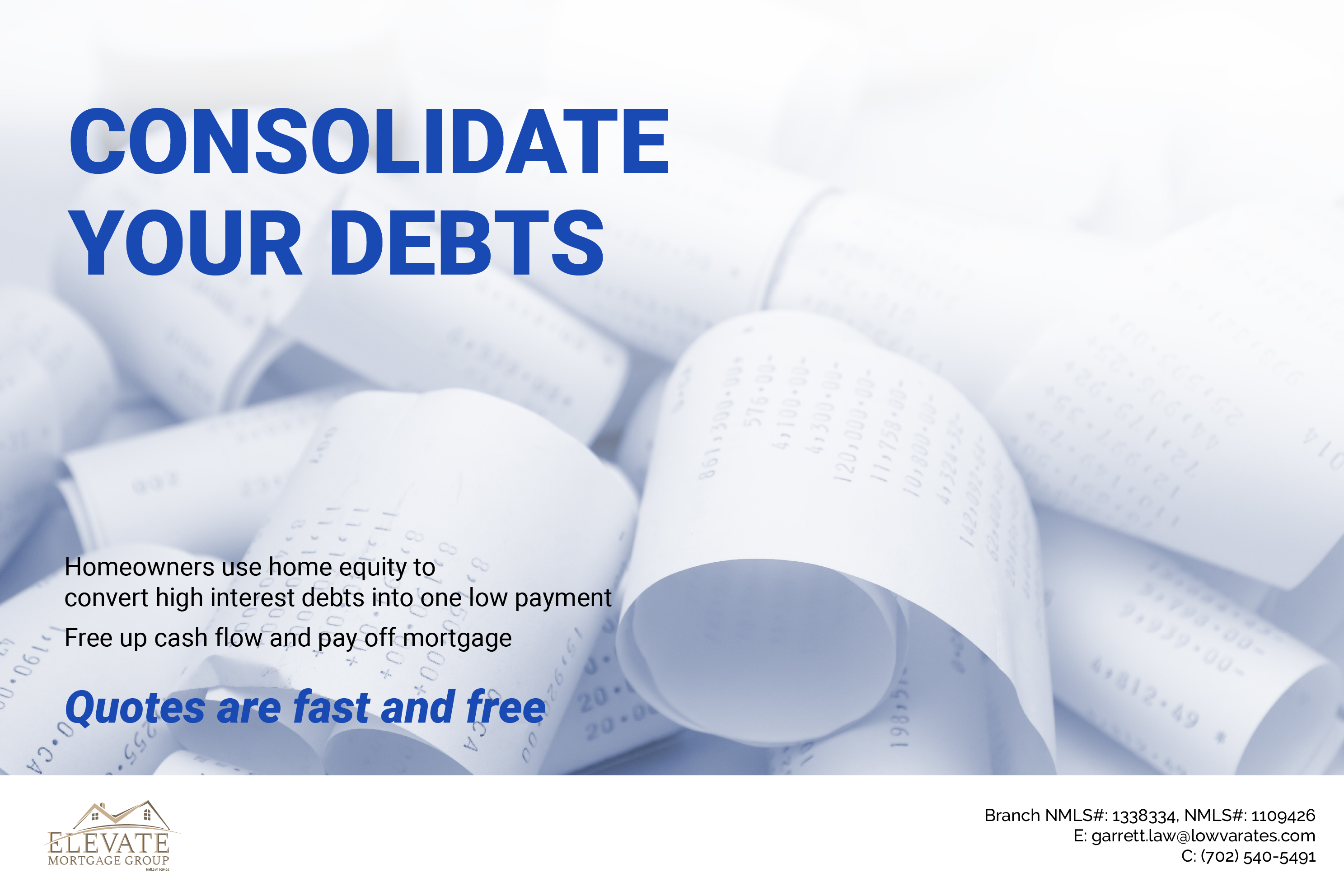 Student loans, variable credit card debt, medical bills, home repairs are just a few of the many examples of minimum payments people have to make. If your home has equity we can help you to wrap all off your debts into a fixed interest rate mortgage and free up cash flow from your monthly budget. We can also show you if you keep paying the total amounts (you were paying) onto the mortgage how quickly you will pay your home off. This can really help you save in interest costs & avoid debt in the future.
Choose an option below to
Get Pre-Qualified:
Purchase
First-time homebuyer? Looking to get a second home?
Refinance
Save money, get extra cash, lower your rate...we've got you covered!
© 2023 Low VA Rates, LLC™ d/b/a Garett Law Mortgage. Low VA Rates, LLC is not affiliated with any U.S. Government Agency nor do we represent any of them. Corporate Address: 384 South 400 West, Suite 100, Lindon, UT 84042, 801-341-7000. VA ID 979752000 FHA ID 00206 Alaska Mortgage Broker/Lender License No. AK-1109426; Arizona Mortgage Banker License #0926340; California DBO Finance Lenders Law License #603L038; Licensed by the Delaware State Banking Commission License #018115; Georgia Residential Mortgage Licensee License #40217; Illinois Residential Mortgage License #MB.6761021; Licensed by the New Jersey Department of Banking and Insurance, Ohio Mortgage Loan Act Certificate of Registration #SM.501937.000; Oregon Mortgage Lending License # ML-5266; Rhode Island Licensed Mortgage Lender License #20143026LL; Texas License LOCATED at 201 S Lakeline Blvd., Ste 901, Cedar Park, TX 78613; EAH061020 NMLS ID# 1109426 NMLS Consumer Access www.nmlsconsumeraccess.org. Click on these links to access our Privacy Policy and our Licensing Information. Consumer's total finance charges may be higher over the life of the loan. Consumer NMLS Access - NMLS #1109426. NMLS#: 20750, Branch NMLS#: 1338334.

TEXAS MORTGAGE COMPANY DISCLOSURE: "CONSUMERS WISHING TO FILE A COMPLAINT AGAINST A COMPANY OR A RESIDENTIAL MORTGAGE LOAN ORIGINATOR SHOULD COMPLETE AND SEND A COMPLAINT FORM TO THE TEXAS DEPARTMENT OF SAVINGS AND MORTGAGE LENDING, 2601 NORTH LAMAR, SUITE 201, AUSTIN, TEXAS 78705. COMPLAINT FORMS AND INSTRUCTIONS MAY BE OBTAINED FROM THE DEPARTMENT'S WEBSITE AT WWW.SML.TEXAS.GOV. A TOLL-FREE CONSUMER HOTLINE IS AVAILABLE AT 1-877-276-5550. THE DEPARTMENT MAINTAINS A RECOVERY FUND TO MAKE PAYMENTS OF CERTAIN ACTUAL OUT OF POCKET DAMAGES SUSTAINED BY BORROWERS CAUSED BY ACTS OF LICENSED RESIDENTIALMORTGAGE LOAN ORIGINATORS. A WRITTEN APPLICATION FOR REIMBURSEMENT FROM THE RECOVERY FUND MUST BE FILED WITH AND INVESTIGATED BY THE DEPARTMENT PRIOR TO THE PAYMENT OF A CLAIM. FOR MORE INFORMATION ABOUT THE RECOVERY FUND, PLEASE CONSULT THE DEPARTMENT'S WEBSITE AT WWW.SML.TEXAS.GOV."

*Annual savings calculator based on 2015 monthly average savings extrapolated year-to-date.